President Trump visits Carolinas to survey Hurricane Florence damage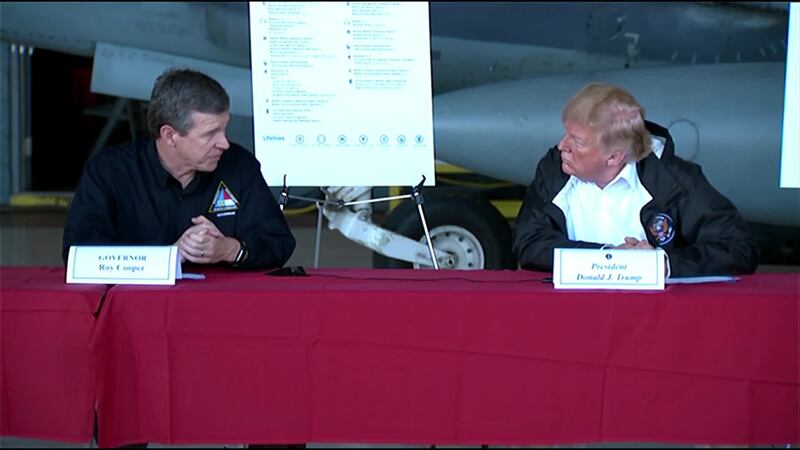 Updated: Sep. 19, 2018 at 8:33 PM CDT
CHARLOTTE, NC (WBTV) - President Donald Trump landed in North Carolina Wednesday morning to tour areas around the Carolinas affected by Hurricane Florence.
White House officials confirmed on Tuesday that Trump would be landing aboard Air Force One around 10:20 a.m. at the Marine Corps Station - Cherry Point, on Roosevelt Boulevard in Havelock, where Gov. Roy Cooper is expected to join Trump for a briefing.
"To the families who have lost loved ones, America grieves with you, and our hearts break for you. God bless you," Trump said. "We will never forget your loss. We will never leave your side. We're with you all way. And to all those impacted by this terrible storm, our entire American family is with you and ready to help. And you will recover."
"We're ready to do whatever we have to do to make this perfect," Trump said, calling Florence one of the most devastating storms to ever hit the country.
"Most importantly, we give thanks to the incredible first responders, including sheriffs, police officers, firefighters, our great Cajun Navy," Trump said. State and local first responders rescued more than 3,000 people. More than 1.6 million meals have been delivered to North Carolina and more than 400,000 are ready in South Carolina, Trump said.
Gov. Roy Cooper was also in attendance, along with FEMA and other emergency leaders. "I know that this state has a great economy, great education. We are a beacon in the south. And we have weathered storms before in our state. But, Mr. President, we have never seen one like this," Cooper said. "This one has been epic, it has been disastrous, and it has been widespread. It is a storm like no other."
After receiving a briefing on the storm at Cherry Point, Trump and Cooper loaded into a motorcade and drove to New Bern to visit the waterfront town that was hit hard by flooding during Florence.
The pair stopped at Temple Baptist Church, where the North Carolina Baptist Men, Red Cross and Salvation Army have staged a recovery point.
Trump and Cooper spent several minutes handing out meals to residents that drove through to pick up food.
Patty Pennington, whose husband is the senior pastor at the church, got to meet Trump during his stop. She said some drivers had tears in their eyes as they realized the president was serving them a hot meal.
After visiting the church, the motorcade made its way through downtown New Bern, driving along the waterfront, where homeowners and businesses and piled debris along the sidewalks washed up by the storm.
President Trump acknowledged that work still needed to be done and later in the day, while visiting South Carolina, he cautioned residents that, "You really haven't been hit yet by comparison with what's coming", referring to the flooding issues that continue to affect different parts of the Carolinas.
The President's trip to South Carolina included a visit to the Horry County Emergency Operations Center where he was met by Senators Lindsey Graham and Tim Scott as well as SC Governor Henry McMaster and Congressman Tom Rice.
Governor McMaster stated that Hurricane Florence, "may be the worst disaster that we've had in South Carolina," while President Trump thanked a crowd of, "the best people in the world", for all of the work they had done so far while also warning them that, "over the next couple of days it's going to get rough in South Carolina."
President Trump returned to Washington around 4:00 pm after flying out of Myrtle Beach International Airport on Air Force One.
The visit comes days after President Trump approved a disaster declaration for the state on Saturday. "Money will come as soon as you need it," Trump said Wednesday.
Previous: President Trump approves disaster declaration in North Carolina
The federal funding provides assistance to local governments and certain private nonprofit organizations in Beaufort, Brunswick, Carteret, Craven, New Hanover, Onslow, Pamlico, and Pender counties.
According to the office of the Press Secretary, assistance can include grants for temporary housing and home repairs, low-cost loans to cover uninsured property losses, and other programs to help individuals and business owners recover from the effects of the disaster.
Related: Florence leaves dangerous flooding, 32 dead in Carolinas
On a call with Charlotte Mayor Vi Lyles and NC Lt. Gov. Dan Forest Saturday, Trump "assured each elected official that the federal government stood ready and prepared to assist with anything their state and respective communities would need during this natural disaster."
Copyright 2018 WBTV. All rights reserved.