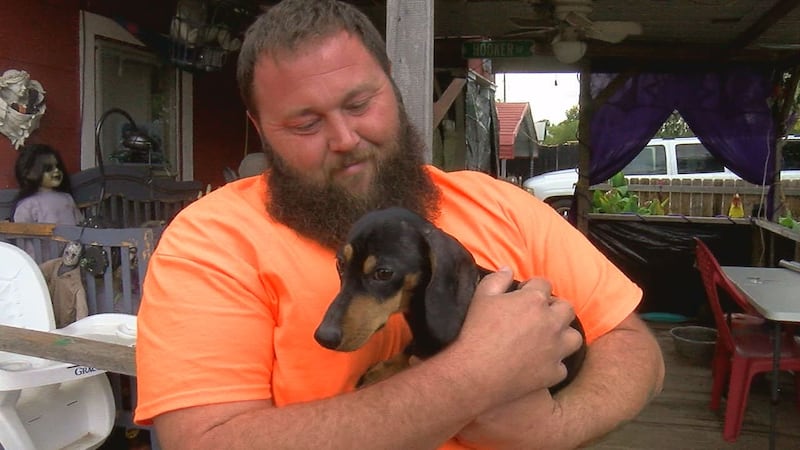 Updated: Oct. 25, 2018 at 10:17 PM CDT
LAWTON, OK (RNN Texoma) -Sprocket is home! The six-month-old miniature Dachsund, who was beaten last week is back with his family in Lawton after two surgeries.
"When we brought him home last night neither one of us wanted to let him go really," said Sprocket's owner, David Winbush.
The four-pound puppy had surgery on both of his back legs at Neel Veterinary Hospital in Oklahoma City.
Sprocket's owner, David Winbush said the veterinarian told him he would walk again but may have issues like one leg being shorter than it used to.
"The left leg they put rods in," he said. "The right leg they put a steel plate with nuts and bolts to hold it all together."
Winbush said along with the hospital covering all charges for Sprockets recovery, he's also received get well packages and messages from supporters.
He said they are just happy to see him enjoying himself again.
"It's not cool to hurt animals and people that are just helpless," said Winbush. "This animal it can't run to someone and say who abused it, what they did to him, they just can't. So, as pet owners, we are their voice."
He said they are still trying to come to terms with the incident and still have questions on why it happened, but as of now, they are just thankful for the support and Sprocket coming home.
"Sprocket really appreciates," said Winbush. "And like I said before I just kind of thought the good people in the world were just not around anymore but I was wrong. You're still out there and we just appreciate so much and thank you."
Winbush told 7 News a court date is set in Comanche county for the child who is charged with animal cruelty charges, but did not want to release a date and time.
However, he did say they are holding a haunted house at 502 SW Jefferson for Halloween and all are welcome to come by and see Sprocket .
Copyright 2018 RNN Texoma. All rights reserved.