Wichita Mountains Wildlife Refuge gets new bison after 70 years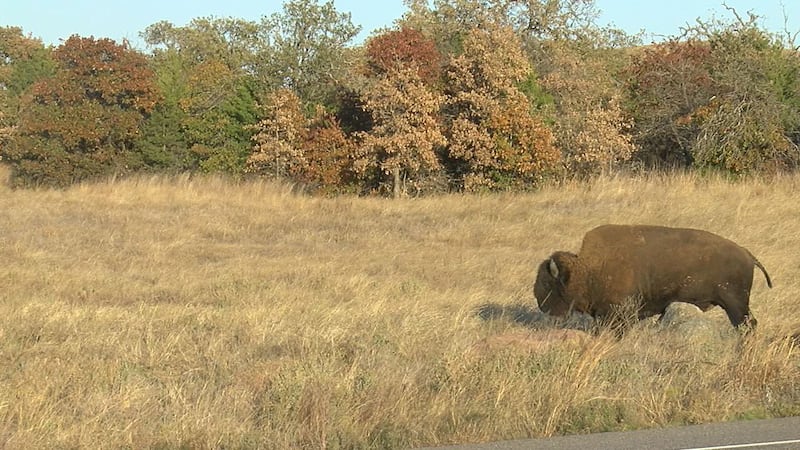 Updated: Nov. 14, 2018 at 9:53 PM CST
WICHITA MOUNTAINS WILDLIFE REFUGE, OK (RNN Texoma) -For the first time in 70 years, the Wichita Mountains Wildlife Refuge has added new bison to its herd. The refuge added three male American bison that are three years old.
Wichita Mountains Wildlife Refuge has had bison since 1907. The first 15 animals were brought in from the Bronx, New York. The last was added in the mid-1940′s from Nebraska.
Since then the refuge has managed a herd of 700 bison.
"It's significant for the refuge and it's also significant for the genetic conservation of this herd and also other bison herds within the fish and wildlife service," said Wildlife biologist, Dan McDonald.
McDonald said the three new bison were brought in from Colorado.
"They are younger bulls, each three years old," he said. "And so it'll be a few years before they're able to breed and make genetic contributions to our herd."
McDonald said each year they move some bison from one refuge to another. He said it's important to add bison to manage the herd and genetics.
"It's totally new genetics that we were able to add to our herd, supplement the genetics and boost the genetic diversity," said McDonald.
He said mixed genetics is good for conservation. His hope that the new bison will eventually contribute to the genetic of the refuges herd.
"To further boost the genetic diversity within our herd," he said. "So hopefully, this is the start of more additional of bison in the future."
McDonald said they plan to bring in female bison next.
The refuge sends and receives bison from five different herds across the U.S. Their goal is to move other livestock from the refuge in the future.
Copyright 2018 RNN Texoma. All rights reserved.