Hearts That Care begins construction on brand new facility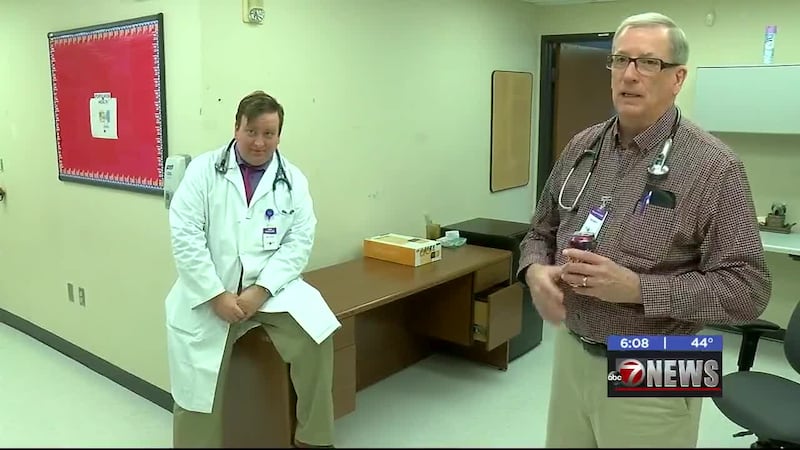 Updated: Oct. 28, 2019 at 1:42 PM CDT
LAWTON, Okla. (TNN) - Hearts that Care, a free clinic in Lawton is in the early stages of construction on a brand new facility.
For people in Southwest Oklahoma living uninsured or in poverty... Hearts that Care's Medical Director said their clinic is typically the only option for help.
In their current building, he said they lack space and equipment to provide the help they would like, and this new facility is hopefully going to transform their operation.
Medical Director Dr. Daniel Joyce said thanks to a $800,000 in donations from the McMahon Foundation... their decade long dream is coming true.
And soon you'll be able to see it... located near 13th and Gore.
"I currently have four exam rooms that are very small, and now i'll have eight rooms, 5,000 square feet. I'm basically going to walk into a new facility, turn the lights off at one and start fresh at the new," said Hearts That Care Medical Director Dr. Daniel Joyce.
Dr. Joyce works full time at Lawton Community Health Center Midtown, and twice a month at Hearts that Care.
The days that he works at both facilities, he'll put in well over an 8 hour day.
"I have to third world medicine in a first world country. During the day, Comanche is great and we do a lot here, we do phenomenal work here, and at night I unfortunately can't provide the same care," said Dr. Joyce.
Tom Mills works with Dr. Joyce at both LCHC and Hearts that Care.
Mills said they hope to expand services at the new clinic... but right now, the focus will remain on their current patients.
"The main thing right now is to have a facility that is amendable to provide good, basic, medical care," said Hearts That Care PA Tom Mills.
Mills said a lack of staffing and equipment make for tough days at Hearts that Care... but he said in his 42 years of medical experience, his last eight have been some of his most meaningful.
"That's probably the greatest satisfaction you can have in medicine, providing care to someone in need that has no other avenues," said Mills.
"In this community, there are 17,000 people without insurance, and we are here to step in," said Dr. Joyce.
Dr. Joyce said he expects to be in the new Hearts that Care facility by next February.
Until then, they'll continue to provide their services to current and new patients on the first and third Thursday of every month.
To qualify to visit Hearts that Care, families must be uninsured... or at or below the 200 percent poverty level.
Copyright 2019 Texoma News Network. All rights reserved.