'WILL NOT STAND': OSU star RB upset over Gundy shirt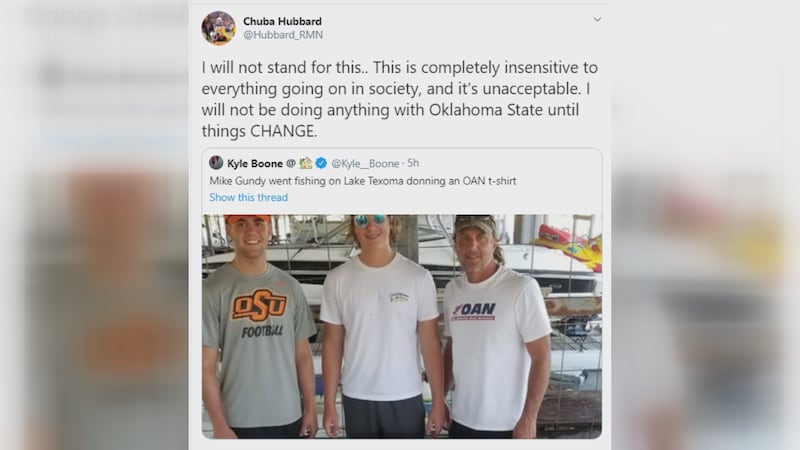 Updated: Jun. 15, 2020 at 3:41 PM CDT
STILLWATER, Okla. (TNN) - Oklahoma State Cowboys star running back and Heisman contender Chuba Hubbard says he will not "stand for this" after Head Coach Mike Gundy is pictured wearing a conservative TV network's shirt at Lake Texoma.
I will not stand for this.. This is completely insensitive to everything going on in society, and it's unacceptable. I will not be doing anything with Oklahoma State until things CHANGE. https://t.co/psxPn4Khoq

— Chuba Hubbard (@Hubbard_RMN) June 15, 2020
On June 10, the picture was posted by a guided fishing company at Lake Texoma showing off what appears to be the haul of fish Gundy brought in earlier that day.
The shirt Gundy is pictured wearing is connected to the One America News Network, a network trumpeted by President Trump, including in a recent tweet accusing a 75-year-old man in Buffalo, who was video being shoved to the ground during protests, of being a provocateur.
Buffalo protester shoved by Police could be an ANTIFA provocateur. 75 year old Martin Gugino was pushed away after appearing to scan police communications in order to black out the equipment. @OANN I watched, he fell harder than was pushed. Was aiming scanner. Could be a set up?

— Donald J. Trump (@realDonaldTrump) June 9, 2020
There have not been any public statements by Oklahoma State University or Coach Gundy is response to Hubbard's post at the time this article was published.
Copyright 2020 Texoma News Network. All rights reserved.