Hospital staff undergo active shooter simulation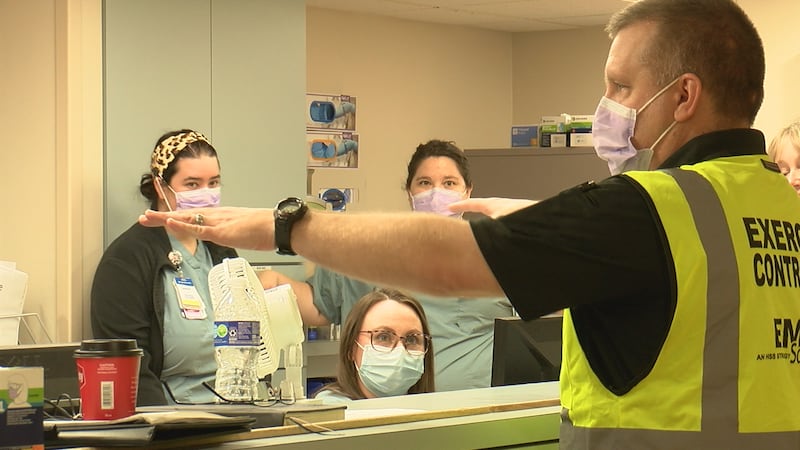 Published: Jan. 26, 2023 at 11:49 AM CST
LAWTON, Okla. (KSWO) - Those visiting the Comanche County Memorial Hospital on Wednesday may have noticed some odd tape and noise as the hospital held the exercise portion of their active shooter training.
Women and Children's Services Director Paula Griffith said, "So today we are having active shooter drills throughout the facility and they came to our area specifically because there have been instances in other facilities where there were angry people that came and participated in an active shooter event in the women and children's services areas."
The hosts of the training, HSS, say it's not their goal to traumatize or over-stimulate staff, but give them opportunities to think through these situations in case they were to ever happen.
"You think, what would I be thinking if this was a real situation? You know, where would I be hiding, what would I be doing? And while you know it's a drill and you can stay calm, you know if it was the real deal, what would you be thinking?" said Griffith.
The simulation in the hospital took place through different sections, allowing observers to see the options available to them for getting out of those scenarios.
"We hope an event like this never occurs, but in the event that it does we want everybody as prepared for it as possible. And you know, we're all here to take care of patients, but, you know, in the end, it's how can we get out so we can return back to those patients," another participant, Michael Richey said. "I just appreciate that they've actually gone to this step to allow us to participate in an active drill like this. I think it's something we should do on an annual basis. You know, because everything's always changing and evolving, and you know scenarios are happening so I think it's a good thing to do."
Copyright 2023 KSWO. All rights reserved.