Fort Sill looks to support military families with new playgroup building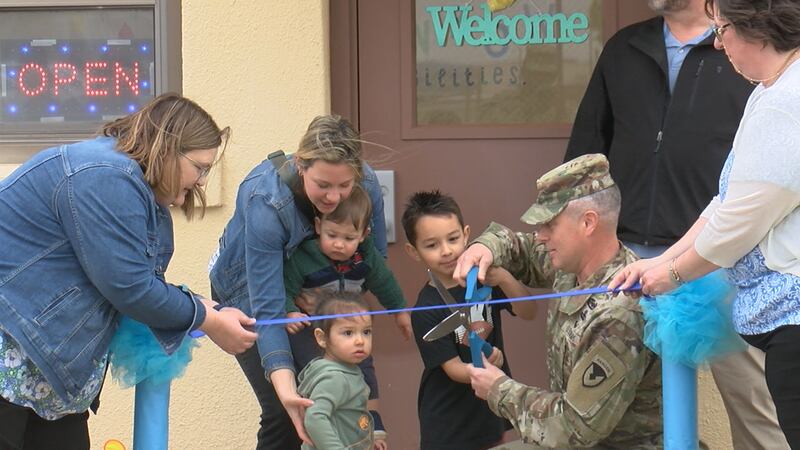 Published: Mar. 30, 2023 at 7:48 PM CDT
LAWTON, Okla. (KSWO) - Fort Sill families now have a new attraction for their younger children.
The New Parents Support Program partnered with the Exceptional Family Member Program and held a ribbon cutting for their new playgroup building Thursday.
Sam Atchley, a registered nurse with the New Parents Support Program, said, "We are super blessed here at Fort Sill that we have this designated building that's just ours, we can set it up how we want. It's perfect for parents and children."
The building is also conveniently located right across the street from a playground.
"It's to help them promote bonding and attachment. It's to help parents play with their kiddos. It's to help everybody get some stress out," said Atchley.
Split into two, one side of the building focuses on the playgroups, while the other focuses on having a sensory safe space.
"What we envisioned for this side, is more on the exceptional family member program. Even though both programs can use either side. Again, we're part of one family," said Merilee Nevins, the coordinator for the Exceptional Family Member Program. "If you get anxious, if you get depressed, if you get overstimulated you need to have a place that you can go and feel safe. You feel that you can regroup."
Not only does this new building provide a place for children to meet and make friends, it gives parents that same luxury.
"It's important for them to see other family members. That they're going through the same things with their kiddos. It's all normal growth and development things," said Atchley. "It's important for them to be able to have a home visitor. One of us is at every playgroup, sometimes more than one of us, and so they have a professional that they can talk to and get the latest, evidence based education on parenting."
Program organizers say hours for the playgroup are currently limited, but they hope to release a schedule with their times in the coming weeks.
Copyright 2023 KSWO. All rights reserved.