Athena Strand's mom reflects on life after loss, holds softball tournament to honor daughter's birthday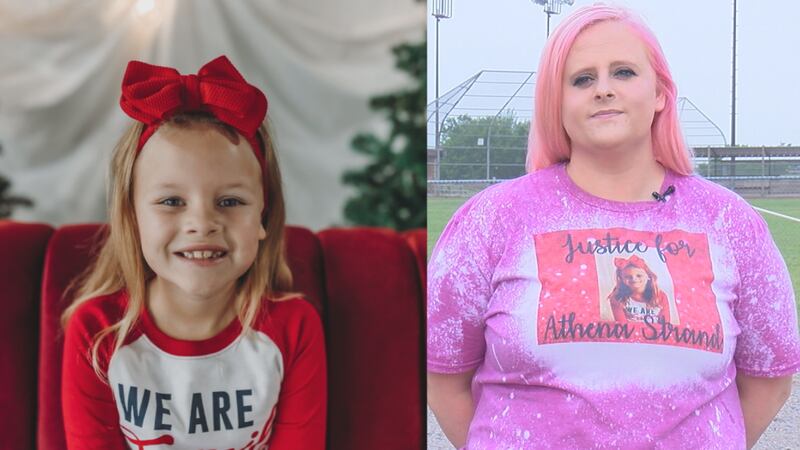 Published: May. 12, 2023 at 6:18 PM CDT
LAWTON, Okla. (KSWO) - The mother of Athena Strand, the girl who was tragically killed late 2022, Maitlyn Gandy said her daughter would have started playing softball this semester.
So the weekend of May 13, a softball tournament is being hosted in honor of her daughter's birthday.
"It's been difficult, but I stay busy. That's the only way I know how to get through things," said Gandy.
While it's meant for the community to have fun, Gandy says there's a much larger goal in mind.
"This is for her birthday, but all of the funds are going to the foundation that I'm starting. It's called Athena Strand's Army Foundation," said Gandy. "It's gonna take time just like everything else, but that is the ultimate goal at the end of this is to be able to save and protect other children from suffering the way that my daughter did."
However, Gandy continues to struggle with her loss.
"When I do sleep, which is hit or miss, I do have nightmares. Very vivid nightmares that I wouldn't wish on anybody which is why I'm very grateful for law enforcement and people like my attorneys that have to see things daily, not just in my case, but in many other cases," said Gandy.
Luckily, she has a large support group of family and people from the community.
"I am very fortunate to have a handful of very close friends. My attorneys have become very close friends of mine, and I have a phenomenal family that has supported me as well as the community," said Gandy.
And for those families, Gandy hopes to provide that support.
"For any mom or dad that is in a situation like what I'm in, it is beyond words the level of difficult that it is. It's hard to navigate, it's hard to go through and people like me do need all the support they can. I'm just hoping that with the foundation and everything we're trying to do that we can impact for families and there can be less parents that have to feel the way that I do," Gandy.
Copyright 2023 KSWO. All rights reserved.