Trump says he will surrender Thursday in Georgia election case
Trump's bond agreement set at $200,000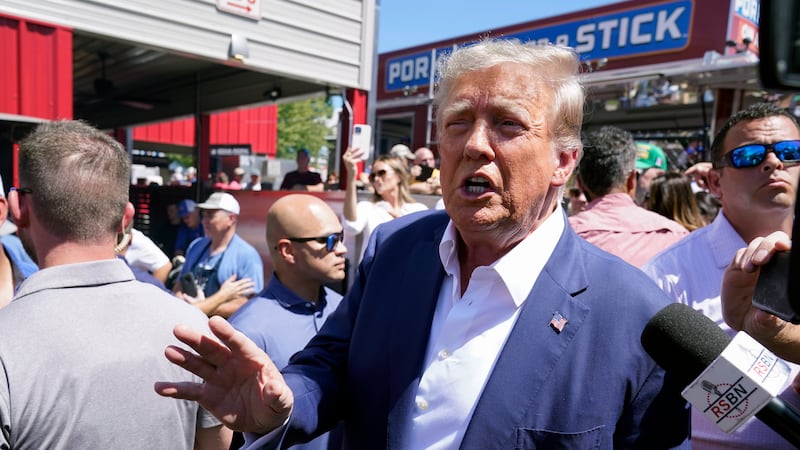 Published: Aug. 21, 2023 at 1:43 PM CDT
|
Updated: Aug. 21, 2023 at 7:36 PM CDT
ATLANTA (Atlanta News First/Gray News/AP) - Former President Donald Trump says he will surrender to authorities in Georgia on Thursday to face charges in the case accusing him of illegally scheming to overturn his 2020 election loss.
"Can you believe it? I'll be going to Atlanta, Georgia, on Thursday to be ARRESTED," Trump wrote on his social media network Monday night, hours after a $200,000 bond agreement was reached for him as part of last week's sweeping Fulton County indictment.
Trump and 18 others were charged with 41 counts tied to efforts to overturn Georgia's 2020 election. Fulton County District Attorney Fani Willis has given Trump and the others named in the indictment until Friday to surrender.
Trump's bond includes $80,000 for allegedly violating Georgia's Racketeer Influenced and Corrupt Organizations (RICO) law, and $10,000 each for 12 additional charges.
Also on Monday, a $100,000 bond agreement was reached for John Eastman, one of Trump's attorneys, and Kenneth Chesebro, whose bond agreement was also set at $100,000.
A former dean of Chapman University law school in Southern California, Eastman was deeply involved in some of Trump's efforts to remain in power after the 2020 election. He wrote a memo arguing that Trump could remain in power if then-Vice President Mike Pence overturned the results of the election during a joint session of Congress where electoral votes would be counted. That plan included putting in place a slate of "alternate" electors in seven battleground states, including Georgia, who would falsely certify that Trump had won their states.
Prosecutors have said Chesebro, also an attorney, worked with Georgia Republicans in the weeks after the November 2020 election at the direction of Trump's campaign. Chesebro, they say, worked on the coordination and execution of a plan to have 16 Georgia Republicans sign a certificate declaring falsely that Trump won and declaring themselves the state's "duly elected and qualified" electors.
A $10,000 bond agreement also has been reached for Scott Graham Hall, the Atlanta-area bail bondsman accused of being involved in commandeering voting information that was the property of Dominion Voting Systems from Coffee County in south Georgia.
Ray Smith III, another defendant in the case, also reached a bond agreement of $50,000. A Georgia-based lawyer, Smith was involved in multiple lawsuits challenging the results of the 2020 election in Georgia. He also gathered witnesses to provide testimony before Georgia legislative subcommittee hearings held in December 2020 on alleged issues with the state's election.
Bond for Smith has been set at $50,000.
These are the first reported bond agreements that have been reached in the case. Fulton County Superior Court Judge Scott McAfee, who has been assigned the cases, signed the bond agreements.
All of the bond agreements reached so far include RICO charges, and those bond fees are higher than any of the other charges.
In a consent bond process, attorneys on behalf of their clients tell the state why they believe their defendant is eligible for bond. Those factors include the type of charges, whether the defendant is a flight risk and whether they'd intimidate any person or talk to any co-defendants.
If the judge decides to favor bond, the state and the defendant enter terms of agreement, which the judge must approve.
Copyright 2023 WANF via Gray Media Group, Inc. All rights reserved. The Associated Press contributed to this report.