Rudy Giuliani surrenders to Georgia authorities
Published: Aug. 23, 2023 at 6:16 AM CDT
|
Updated: Aug. 23, 2023 at 6:50 PM CDT
ATLANTA (WANF/Gray News) — The man once known as "America's mayor" surrendered Wednesday afternoon at the Fulton County jail, the latest among several co-defendants who have already done so after last week's sweeping Fulton County indictment involving former President Donald Trump.
After he was booked and photographed, Rudy Giuliani told reporters outside the jail that Fulton County District Attorney Fani Willis "will go down in history for the worst attack on our Constitution."
Giuliani turned himself in one day ahead of Trump's scheduled surrender on Thursday. His bond, according to court records, was set at $150,000.
Giuliani previously announced he would surrender Wednesday.
"I'm going to Fulton County to comply with the law, which I always do," he told reporters before leaving for Georgia. "I don't know if I plea today but if I do I plead not guilty."
During several legislative hearings at the Georgia Capitol in December 2020, the former mayor and Trump attorney is alleged to have promoted allegations of widespread election fraud in Georgia. Prosecutors have said Giuliani was involved in a plan to have 16 Georgia Republicans serve as fake electors, swearing that Trump had won the 2020 presidential election and declaring themselves the state's "duly elected and qualified" electors.
Giuliani faces 13 counts, the most serious being racketeering. Trump also faces 13 counts, more than the other 17 defendants in the case.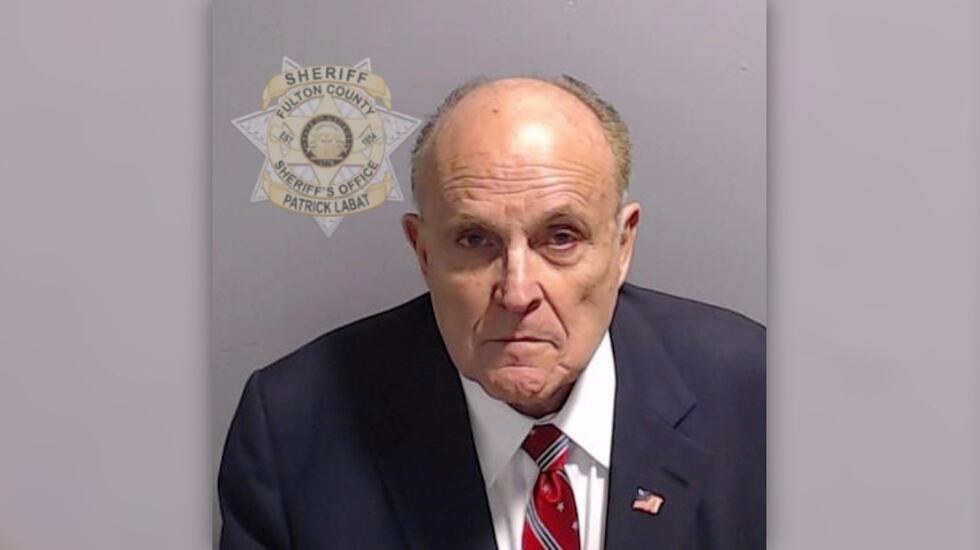 Last month, Giuliani admitted he made "false" statements about two Georgia election workers in the chaotic aftermath of the 2020 presidential election. Giuliani is also no longer contesting the factual allegations in defamation lawsuits filed by Shaye Moss and Ruby Freeman, the two Fulton County election workers in question.
Giuliani — who earned a national reputation not only as a fearless federal prosecutor but also as New York City mayor during the 9/11 terror attacks — has been a personal attorney for Trump in his efforts to contest the 2020 presidential election's results.
Giuliani is also the target of a July 11 lawsuit filed in the U.S. District Court of Columbia, in which Freeman and Moss allege Giuliani failed to turn over evidence despite several court orders to do.
Also on Wednesday, Ray Smith III surrendered at the Fulton County jail. A Georgia-based lawyer, Smith was involved in multiple lawsuits challenging the results of the 2020 election in Georgia. He also gathered witnesses to provide testimony before Georgia legislative subcommittee hearings held in December 2020 on alleged issues with the state's election.
Trump attorney Sidney Powell also surrendered Wednesday after agreeing to a $100,000 bond settlement. Powell was part of a group who met at the South Carolina home of conservative attorney Lin Wood in November 2020 "for the purpose of exploring options to influence the results of the November 2020 elections in Georgia and elsewhere," prosecutors have said. Wood, who was licensed in Georgia at that time, said Powell asked him to help find Georgia residents to serve as plaintiffs in lawsuits contesting the state's election results.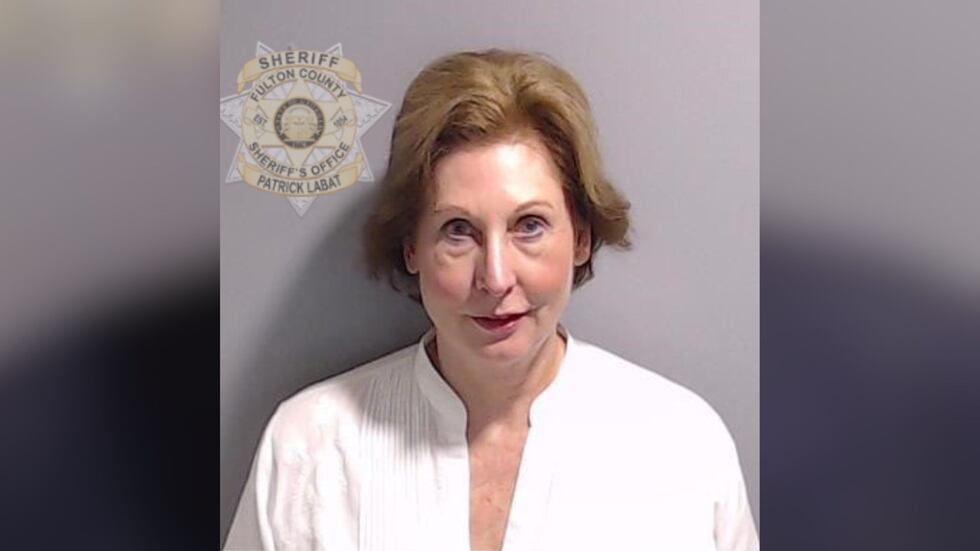 Another defendant, attorney Kenneth Chesebro, surrendered Wednesday morning. Prosecutors have said Chesebro worked with Georgia Republicans in the weeks after the November 2020 election at the direction of Trump's campaign. Chesebro worked on the coordination and execution of a plan to have 16 Georgia Republicans sign a certificate declaring Trump won and declaring themselves the state's "duly elected and qualified" electors.
Attorney Jenna Ellis also turned herself in Wednesday. Prosecutors say she was involved in efforts to convince state lawmakers to unlawfully appoint presidential electors.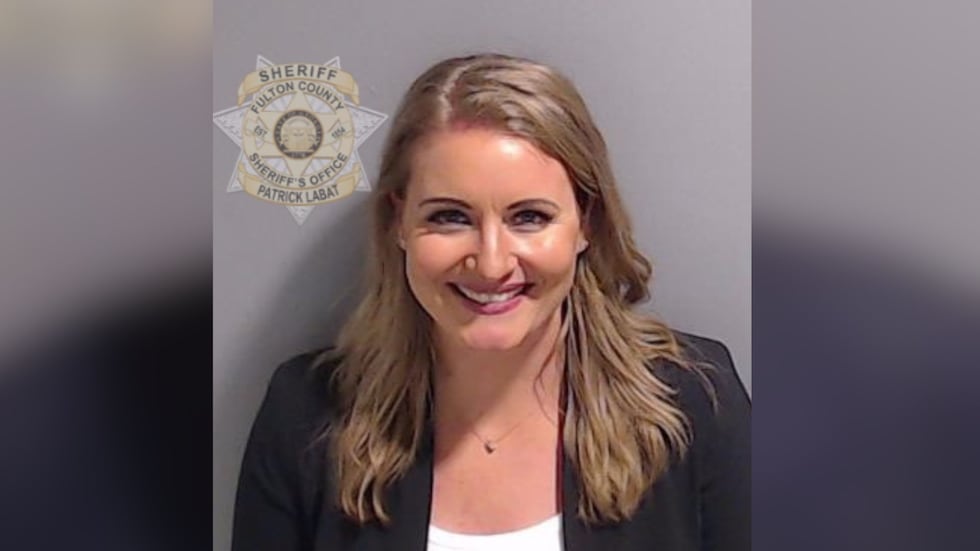 Trump is expected to turn himself in on Thursday, with a bond agreement of $200,000.
On Wednesday morning, Trump posted on Truth Social, "Nobody has ever fought for election integrity like President Donald J. Trump. For doing so, I will proudly be arrested tomorrow afternoon in Georgia. God bless the United States of America!!"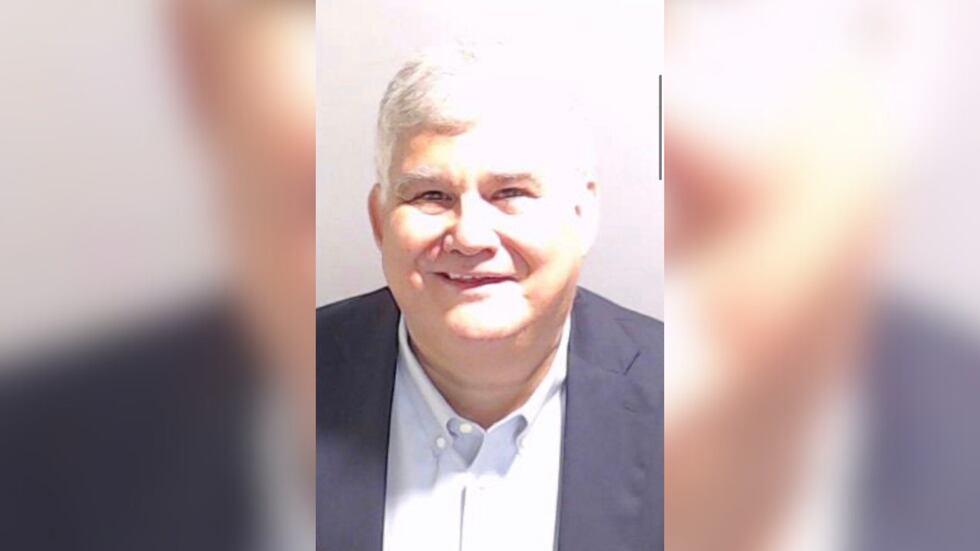 Cathy Latham, the former chair of the Coffee County Republican Party who is accused of being a fake elector, and former GOP chairman David Shafer, who is also accused of being a fake elector, turned themselves in at the Fulton County Jail in the early morning hours of Wednesday.
Both have bond agreements of $75,000.
Shafer's lawyer says he's immune to prosecution under the supremacy clause, claiming he was just a federal official taking orders from another federal official. But a local law professor says that isn't true.
"A GOP chair is actually not a government employee. Neither political party is part of the government, so neither the Democrat nor Republican chair is an actual government employee," said John Acevedo, a professor at the Emory School of Law.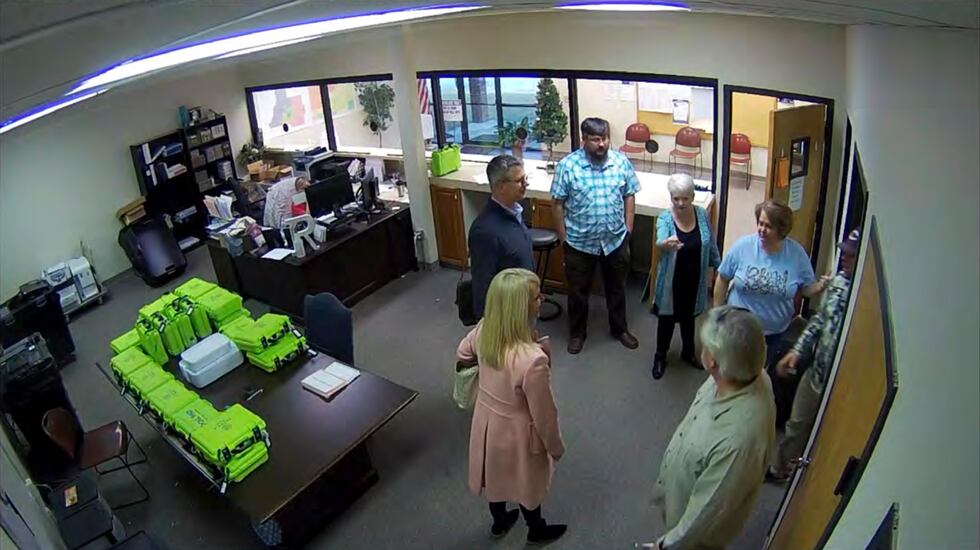 On Tuesday, Scott Hall, the Atlanta-area bail bondsman who was allegedly involved in commandeering voting information that was the property of Dominion Voting Systems from Coffee County in south Georgia, and Trump attorney John Eastman surrendered to authorities.
Hall's charges include conspiracy to commit a felony, conspiracy to commit election fraud, conspiracy to defraud the state of political subdivision, and Violation of the Georgia Racketeer Influenced and Corrupt Organizations Act (RICO).
Eastman, prosecutors say, was deeply involved in some of Trump's efforts to remain in power after the 2020 election. He wrote a memo arguing that Trump could remain in power if then-Vice President Mike Pence overturned the results of the election during a joint session of Congress where electoral votes would be counted. That plan included putting in place a slate of "alternate" electors in seven battleground states, including Georgia, who would falsely certify that Trump had won their states.
Hall reached a bond agreement of $10,000, while Eastman's bond was $100,000.
Copyright 2023 WANF via Gray Media Group, Inc. All rights reserved.