Council discusses expansion request for Lawton Animal Welfare and more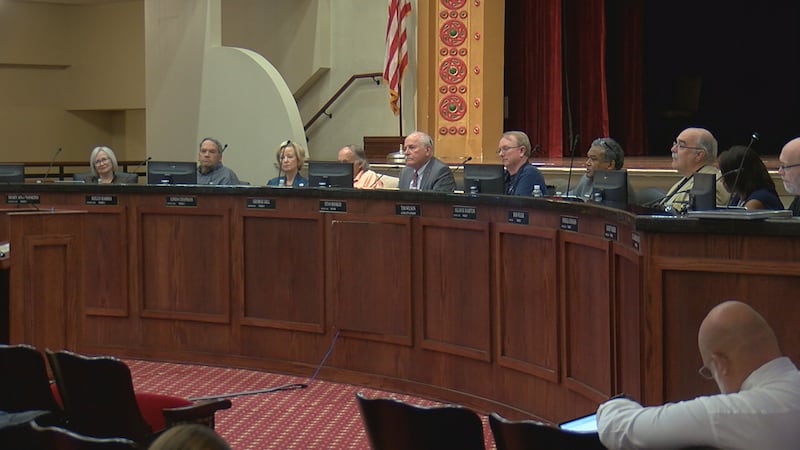 Published: Sep. 26, 2023 at 11:22 PM CDT
LAWTON, Okla. (KSWO) - Councilmembers discussed and approved the request for expansion services for the Lawton Animal Welfare.
According to Roy Rodrick, the superintendent of the Lawton Animal Welfare the current size of the shelter does not have the capability to house the amount of animals they're taking in, which leads to an increase of euthanasia's.
During Lawton's city council meeting Superintendent Roy Rodrick of the Lawton Animal Welfare showed a video of the current state of the shelter to councilmembers.
"We had 126 under six months of age came in during the month of May. We had 88 under six months of age that we euthanized," Rodrick said.
Rodrick said a lot of problems the shelter has comes from the size of the building.
He added they have to house multiple animals in one kennel, which opens the likelihood of disease.
"When you put multiple puppies in one pin they are going to get all over each other. They track in their feces," said Rodrick. "It's a catastrophe waiting to happen with the facility that we have."
Rodrick went on to say Lawton has a higher animal intake when compared to surrounding cities.
He also said the shelter is understaffed which hinders their response to stray calls and the upkeep of the building.
"So those numbers reflect, those euthanasia's reflect the sickness that we've had to deal with. On top of the owner surrenders that we've had to deal with. It's just, it's not a win," said Rodrick.
He said if their numbers continue to rise it could result in an all time high since the pandemic.
To help with the intake they've recently changed a policy, so now a person can adopt more than one animal at a time.
Councilmembers also approved a year long trial period for electric scooters to be brought into the city.
They shared concerns about the scooters being intrusive and dumped on the sidewalks.
City officials will meet with the company to discuss a timeline of when these scooters are going to be introduced and who will be responsible for them.
Also approved was phase 2A of the original 2017 Ad Valorem which opens bids for eight residential roads.
A timeline couldn't be given on when the projects will start or finish, but officials said it's one step closer to completing the original
Copyright 2023 KSWO. All rights reserved.