Stefon Diggs reiterates his commitment to the Bills in response to brother's social media posts
Buffalo Bills receiver Stefon Diggs reiterates his commitment to the team while questioning why he had to do it for a second time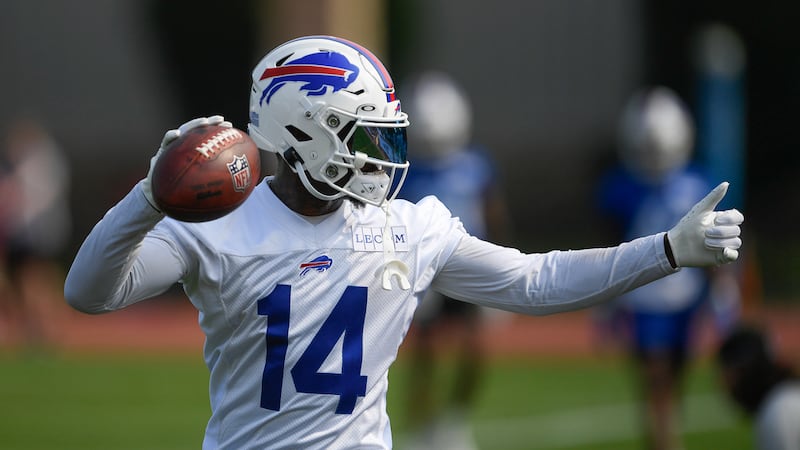 Published: Nov. 17, 2023 at 11:57 AM CST
ORCHARD PARK, N.Y. (AP) — Trevon Diggs didn't do his older brother any favors.
A tumultuous week in Buffalo in which the Bills lost because of a too many men penalty and fired their offensive coordinator continued on Thursday, when receiver Stefon Diggs took exception to having to reiterate his commitment to the team.
"I've never been nothing but fully invested," Diggs said. "I feel like I addressed it in training camp. ... But here we are again."
Diggs was put on the spot courtesy of his younger brother, the sidelined Dallas Cowboys cornerback, who posted two messages on social media following Buffalo's 24-22 loss to the Denver Broncos on Monday.
"Man 14 Gotta get up outta there," Trevon Diggs wrote, in reference to Stefon Diggs' No. 14. "Let's not forget, he didn't start going off till bro got there," he added in a post referring to quarterback Josh Allen, whose production rose with Stefon Diggs' arrival by trade in 2020.
Stefon Diggs responded by saying he loves his brother, and whatever discussions he might have about the posts will be kept in-house. As for what Trevon's motivations might have been, Diggs said to take it up with his brother.
"He's not on the team. He's not part of the Buffalo Bills," Diggs said. "That's still my guy 100%, but I can't speak for him."
He spoke as the Bills (5-5) prepare to host the New York Jets (4-5) on Sunday and at a time a sluggish offense is being blamed for Buffalo dropping four of six to slip out of playoff contention.
The contents of the posts reignited past questions of Diggs' desire to stay in Buffalo. The receiver skipped the team's entire spring schedule of voluntary sessions.
Confusion then arose when Diggs wasn't present for the Bills first mandatory practice and coach Sean McDermott said he was "concerned" about the player's absence.
A day later, McDermott corrected himself by saying Diggs was excused from practice, but was present at the facility to discuss lingering issues that stemmed from the previous season.
Diggs didn't address reporters until a month later at the start of training camp, when he said he hoped to complete his career in Buffalo.
"I take my job seriously. You can see how I play. You can see how I play. You can see how I practice," Diggs said Thursday. "They've never questioned me as a player, and as a man of what I bring to the table. So me being fully invested has never really been in question."
Otherwise, Diggs took Dorsey's firing in stride by calling it unfortunate and referring to his interim successor, Joe Brady, as a "hell of a guy."
"That's how the cookie crumbles," Diggs said. "It's a new week, a new guy. ... We're all excited. We look forward to the game 100% and can't wait to get out there."
He chalked up the sputtering offense to errors in execution.
"A lot of people say the house is on fire, but for us, I feel like we do a lot of good things, and we're right there," Diggs said. "So if we can try to not necessarily right the ship, but tighten the up the loose things — a couple of loose screws — then maybe we can have the tide turn."
Brady takes over after spending the past two seasons as Buffalo's quarterbacks coach. He previously served as the Carolina Panthers offensive coordinator from 2020-21.
Brady accepted part of the responsibility for Dorsey's dismissal by noting he is a member of the offensive staff.
"If results didn't happen, which they clearly didn't, I'm part of the reason for that and to blame," he said. "But I'm excited about what we have moving forward and the energy that our guys have and the confidence."
Coach Sean McDermott placed an emphasis on the offense playing with more confidence and energy. Producing points and reducing turnovers would help, too.
Buffalo has failed to score 26 or more points in its past six outings — matching its longest stretch since 2018. Over the same span, Allen has thrown seven of his NFL-leading 11 interceptions and also lost two fumbles.
Brady was short on specifics when it came to his play-calling and philosophy, before adding: "Let's just focus on finding ways to score points and not turn the ball over."
___
AP NFL: https://apnews.com/hub/nfl