Reporter
Charleston, West Virginia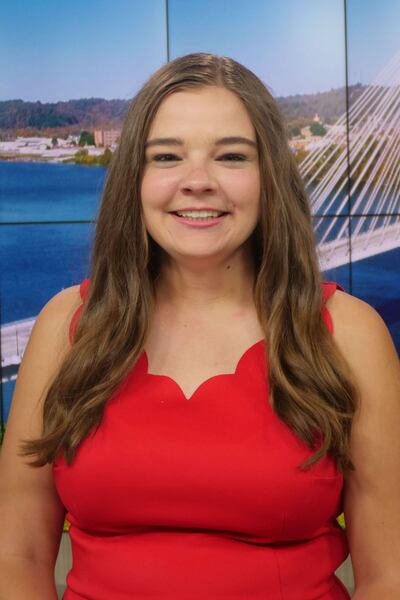 Kimberly Donahue joined the WSAZ news team as a multimedia journalist in April 2022.
Prior to moving to the Mountain State, Kim worked as a reporter and weekend morning anchor at WIBW in Topeka, Kansas for two years.
Kim developed her reporting craft during the earliest days of the COVID-19 pandemic where the TV news industry was challenged to adapt to health and safety measures.
One of her proudest accomplishments during her time in Topeka was helping recover a stolen van. The van belonged to a veteran who ran a charity and Kim eventually surprised him with a new vehicle on live television.
Over her two years in Kansas, she covered a wide range of stories from a baker's union strike at the local Frito-Lay plant, to multiple one-on-one interviews with Kansas Governor Laura Kelly and breaking down the effects of COVID-19 on Shawnee Co. residents.
She previously worked as a video editor at New York 1 News and a production assistant at Fox News Radio.
She graduated magna cum laude from Hofstra University in 2019 with a Journalism major and minors in Political Science and Creative Writing.
A proud native of Philadelphia, Kim is excited to be in the beautiful state of West Virginia.
In her free time, Kim enjoys seeing Broadway shows, going to concerts, scrapbooking and reading.
Kim looks forward to telling your stories and making new memories in the Tri-State region.
Education
Hofstra University
Updated: Apr. 27, 2023 at 8:55 PM CDT
|
By
Alyssa Hannahs
,
Kimberly Donahue
and
Jordan Gartner
The handler of a police dog has reportedly been fired in connection with their K-9 partner's disappearance.
Updated: Sep. 20, 2022 at 12:28 PM CDT
|
By
Lesya Feinstein
,
Shannon Litton
,
Kimberly Donahue
and
Emily Van de Riet
A man in West Virginia died after an excavator fell with him inside and landed in a river, where he is believed to have drowned.