Veterans create, display art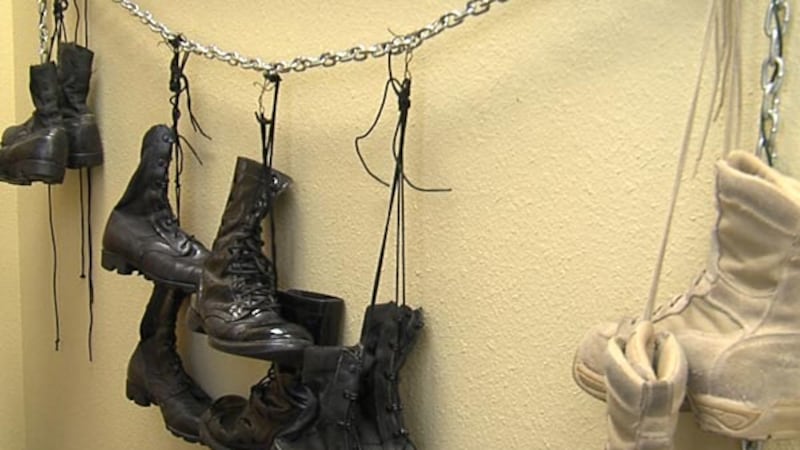 Published: May. 14, 2015 at 10:17 PM CDT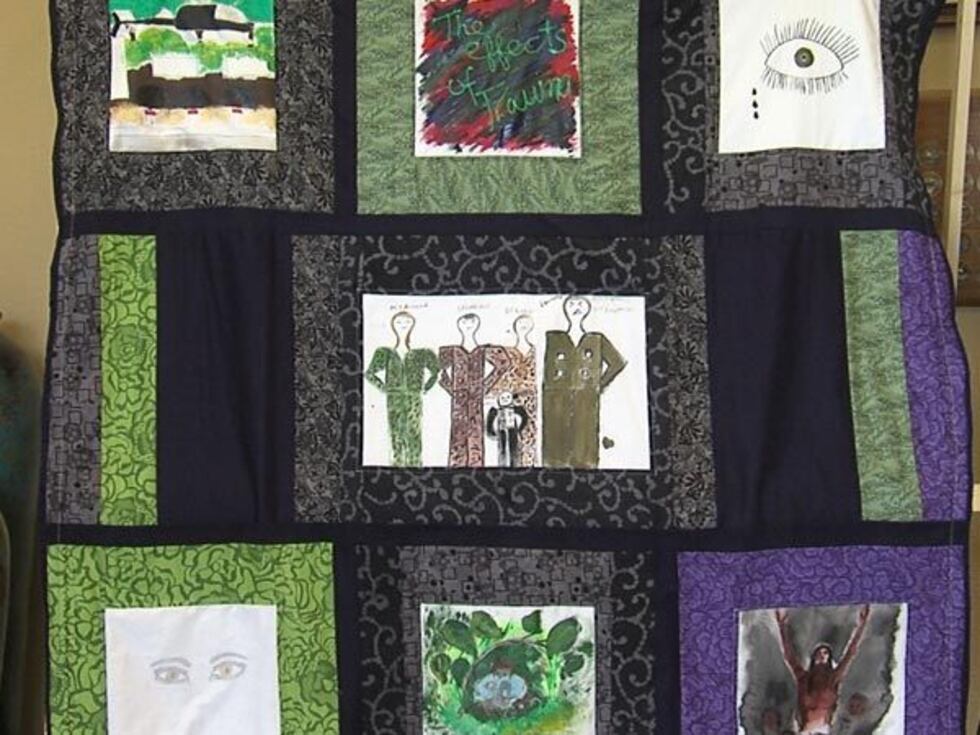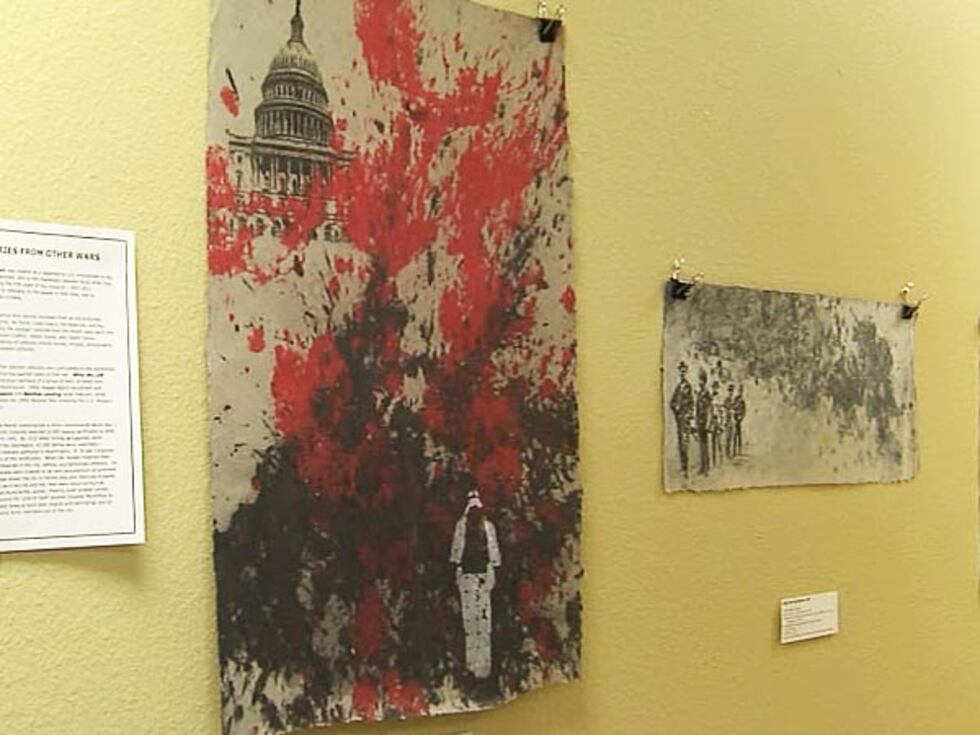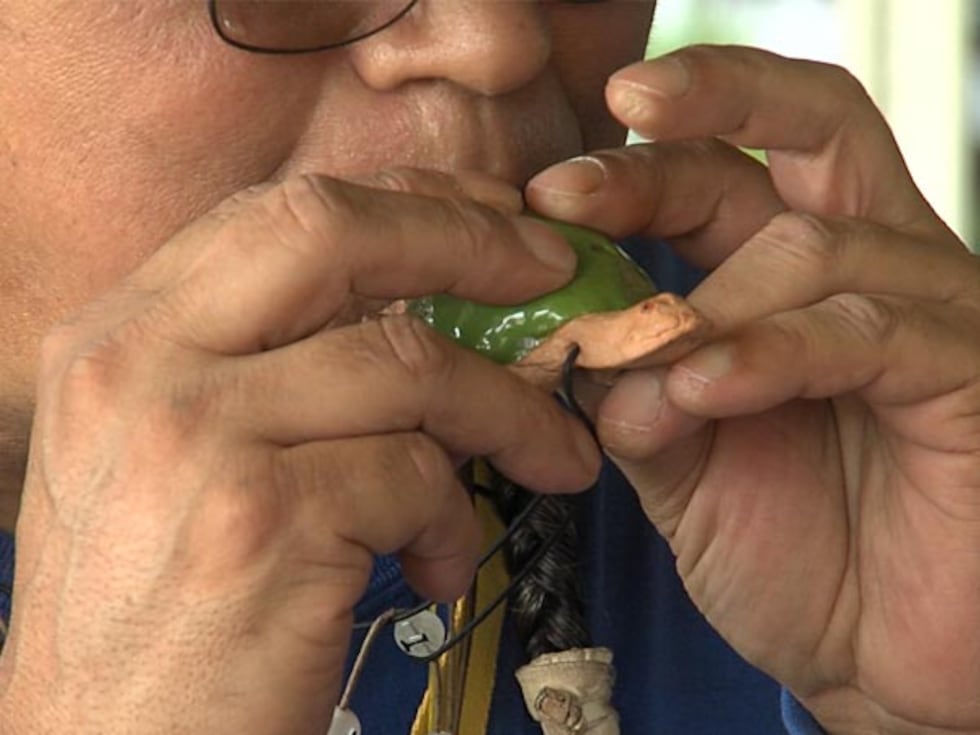 LAWTON, Okla._Veterans are being given the chance to express their experiences on and off the battlefield through the arts.
It's all part of the National Military Experience and Arts Symposium at Cameron University. The event brings in artists to teach classes, like paper making and flute building, in an effort to give vets a creative outlet to deal with the lasting effects of combat.
Veterans said art gives them an opportunity to express how they feel when they can't come up with the right words to tell their families what they have been through.
Event director Jason Poudrier is an Army veteran who enlisted in 2001, right before 9-11.
"It became 'I am in the Army. I am possibly going to go to war.' And then in 2003 I was deployed from here at Fort Sill," said Poudrier.
While in Iraq, Poudrier was wounded in action and says it was something that he will never forget.
"We lost three other soldiers and I was one of 5 wounded, and I was medivaced out. It is a struggle for me to deal with a lot of mixed emotions with I survived, they didn't. My friends continued on the road home up through Baghdad, I didn't," explained Poudrier.
He says he had trouble sharing his feelings about how much he was hurting with his family and friends.
"I suppressed it for a long time and what I found was that writing was my way of expressing those feelings. And through getting published, I was all of the sudden able to communicate," explained Poudrier.
That communication was shown through the creations made at Thursday's workshops, including making paper from military uniforms and building flutes.
Travis Klempan, a 12-year Navy veteran, is participating in this event for the first time this year. He says one of his favorite sessions was building your own comic book.
"I have got it and it is really small and I have it in my pocket, but it's neat because it's a different type of storytelling, but you are still interested in how does the story get told and how does the reader see it," said Klempan.
Through this event, more than 100 veterans learned they are not alone in their experiences.
"Often times, when the art piece is created, another veteran can point to that, whether it's artwork or it's a film, and say 'hey that is my story. I am not able to express it, but if you watch that you know how I am feeling' and then the communication and the dialog can open within a family," said Poudrier.
This is the first time the symposium has been held in Lawton. Thursday evening at 7:30, there will be a poetry reading and a performance by the 'Exit 12 Dance Company' at the Cameron Theatre.
Thursday is the first day of the four-day event, which runs through Sunday. The art exhibit portion of the symposium will be up at the Vet Center until May 31 for those who want to stop by and see it.