Woman recounts acid attack recovery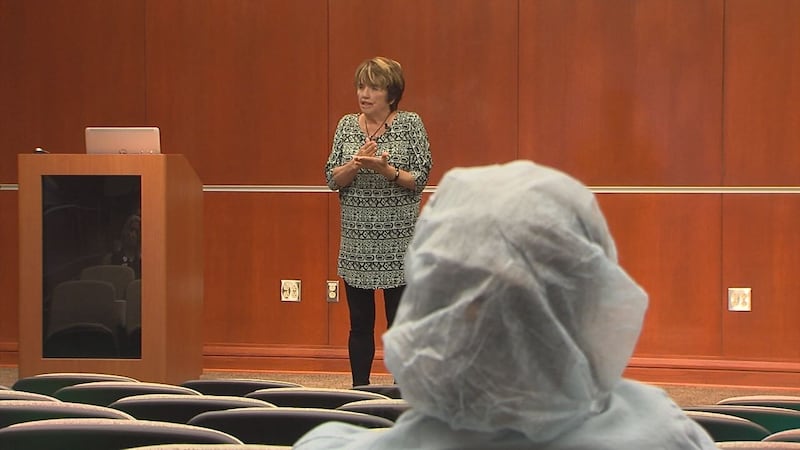 Updated: May. 10, 2017 at 10:54 PM CDT
DUNCAN, OK (KSWO) - A Duncan woman who was badly burned in a random attack shared her story with workers at Duncan Regional Hospital on Wednesday.
Cindi Broaddus said her appreciation of nurses grew after someone tossed a container of acid from a highway overpass, which smashed through the windshield as she and a friend were driving along the turnpike in 2001.
Broaddus said she had fallen asleep on the drive to Oklahoma City, when she was startled awake by an intense pain, with no idea what was causing it.
"I remember being really calm and talking to Jim and telling him to pull the car over and stuff," Broaddus said. "He, on the other hand, said I was screaming bloody murder and I was yelling and that I was dying and I did think I wasn't going to live very long. I thought I was dying."
Doctors gave her a thirty percent chance of survival because she was severely burned on her face, arms, and chest.
Broaddus spent three weeks in the hospital, followed by several years of reconstructive surgery until one day she realized she didn't want any more.
"Something just came over me and I said I've had enough," she said. "I am who I am and I'm going to look this way for the rest of my life and I'm okay with that because I knew who I was on the inside."
Broaddus was determined to live her life and wouldn't let this cause her to become bitter.
"I wished it hadn't happened but it's given me the opportunity to do good," Broaddus said.
She now speaks to other burn victims in hopes of inspiring them and others to keep going no matter what challenges come your way.
"I've had countless people tell me that if they hadn't heard me speak they wouldn't have never done this or done that," Broaddus said. "It's just, I just love it. I love telling the story and just seeing if I can help one person."
16 years later, Broaddus still doesn't know who did this to her.  At one time, investigators believed they had a suspect but didn't have enough evidence to prove it. She says if he's ever caught, she only has one thing she wants him to do.
"Go work in a burn center," Broaddus said. "Hear the screams and see what you've done to people so maybe you won't do this to anybody else."
After she recovered, she wrote a book and began to travel the world, telling her story in the hopes of inspiring others.
Copyright 2017 KSWO. All rights reserved.