Lawton artist getting local, national recognition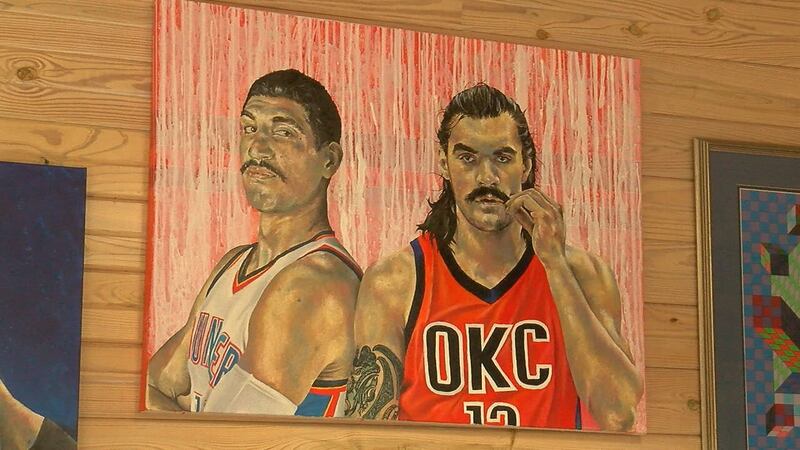 Published: Jun. 11, 2017 at 11:46 AM CDT
|
Updated: Jun. 11, 2017 at 9:22 PM CDT
LAWTON, OK (KSWO) -A local artist who painted the Russell Westbrook Mural in Downtown Lawton is gaining attention locally and nationally as his work continues to spread across the city.
Robert Peterson won artist of the year in February through Lawton Fort Sill Art Council and his work is displayed in many places across town, like at Complete Eye Care off Cache Road.

This is the Mural off C Avenue that Robert Peterson finished last month. Now, that his work is on display for the whole town to see, more and more people across Southwest Oklahoma are dying to have some of his paintings in their own home.
Artist is a title Robert Peterson never thought would be next to his name. He painted his first piece in 2012, but it wasn't until 2013 when his career took off and he started traveling doing shows in places like New York, Chicago and Los Vegas. It started as a hobby, but helped him get out of depression.

"I had injured myself running on a treadmill and I had to have my hip replaced and so I was depressed," said Peterson. "I needed something to take up my time and take my mind off the injury and having to have surgery. Painting was something that I said I'm going to try."

Now, celebrities, professional athletes and famous art galleries have reached out to him to get some of his work. He says 2017 has been the best year yet personally and in his career and he believes God is to thank for that.

"This wasn't something that I thought about," said Peterson. "I believe this was something that God had in me and he pulled out of me at the right time, when I was down and depressed and it was like, ok well here, I have something else for you and it's going to make you happy and it's going to make a lot of people happy. No, I didn't plan it, but I welcomed it and I'm blessed and fortunate to be in the position that I am in."

Lee Baxter, a Lawton native first saw Peterson's work on display at Complete Eye Care off Cache Road.

"I loved it when I saw, but I didn't have and idea who he was or where he was," said Baxter. "I just didn't pay much attention to it and then 6 months ago, I knew the Lawton Fort Sill Arts Council was doing an auction and a friend brought to my attention some of his work, well I liked it so much that I bought 3 pieces without ever seeing them."

Shortly after, Baxter contacted Peterson and asked him to paint these two original pieces of Russell Westbrook and the Stache Brothers, Enes Kanter and Steven Adams. Baxter says he says he was stunned when he saw the paintings.

"We're big Thunder fans, season ticket holders," said Baxter. "My wife, Terry loves "The Stache" brothers so we are just really pleased with both of them. They're just wonderful work."

Peterson says art changed his life. He's proud when he sees or hears other people are appreciating his work.

"It's humbling," said Peterson. "To know that something I create with my hands and other people are wanting, and they like it. It's a good feeling. It makes you feel good."

If you would like to contact Peterson to see or buy some of his work, you can contact him through Facebook.
Copyright 2017 KSWO. All rights reserved.