Lawton police investigate string of vandalism in Northwest neighborhood
Updated: Sep. 12, 2018 at 9:55 PM CDT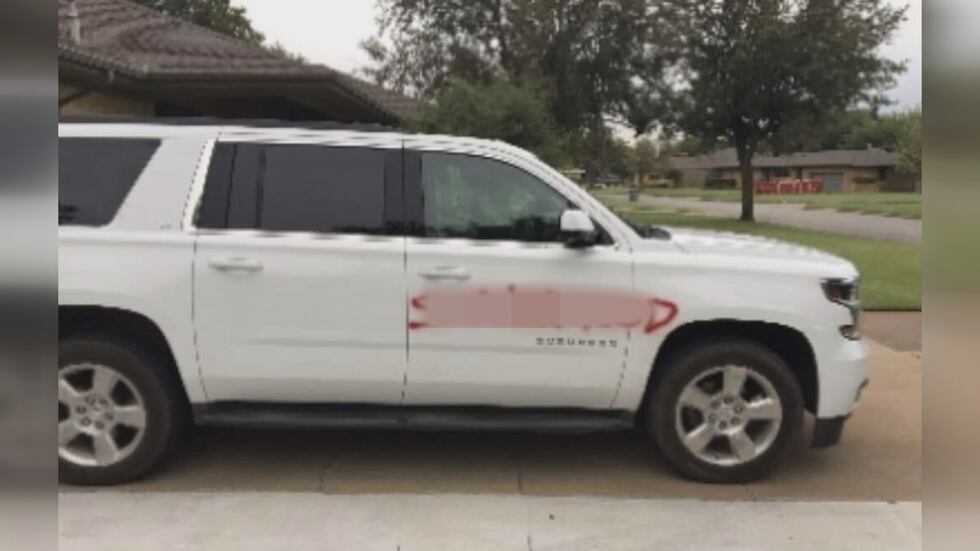 LAWTON, OK (KSWO)- Police are investigating several cases of vandalism in a neighborhood in Northwest Lawton.
"We were shocked but not surprised," said Amy Watkins, homeowner. "We do have things happen in our neighborhood and you hear of things happening all over Lawton."

Amy Watkins said she and her husband were in their home Monday night when they believe the vandalism happened. They had their lights on but didn't hear or see anything unusual until the next morning.

"They had tagged our suburban and the boat." she said.

However, Watkins wasn't alone. Another resident told me her white pickup truck was also hit overnight.

Watkins said while she doesn't condone what the vandals did she's concerned for what could have happened to those behind the damage.

"Many homeowners carry guns and if they see suspicious activity and it's dark outside and they don't see faces they're going to pull their guns," she said.

She's also concerned the words on both her suburban truck and boat may be gang-related. However, Sergeant Timothy Jenkins of Lawton Police Department said typically gang members don't tag their own area.

"And if they do that belongs to that gang in other areas they are concerned about that as well," said Jenkins. "It concerns us because we know a lot of times when these tagging's are occurring somebody out there imitating a gang, whether it be children or it actually is somebody that wants to be a part of a gang."
Jenkins said gangs are not encouraged or tolerated and those caught can be fined or face jail time.
As for Watkins, she said she was lucky enough to remove the damage without it costing too much but encourages those responsible to come forward.
"You may feel like it's a scary thing to step out and notify the police but actually you can prevent something from going wrong down the line," said Watkins.
"We do know our residents are concerned and we want to help them out the best way we can," said Jenkins. "So, if there's any information we can get from that please call us and let us know."
Lawton's Roadside Auto Collision Repair is offering free detail for those that had damage done to their vehicles but cannot match their deductible or don't have free coverage. You can contact the owner Leonard Pacheco at 580-351-6567.
Copyright 2018 KSWO. All rights reserved.